Association between alcohol consumption and dietary supplement intake of students from the University of Sarajevo
Keywords:
folate, vitamin B, multivitamins, minerals, students
Abstract
Introduction: Dietary supplements are an important source of vitamins and minerals that may help prevent several disease-causing biological pathways involved in one-carbon metabolism, including the suppression of cell proliferation, oxidative stress, nitric oxide synthesis, and angiogenesis. The present study aimed to assess the association between the intake of folate, Vitamin B6, Vitamin B12, and minerals and the consumption of alcohol among university students.
Methods: This study was participated by students aged 19-22 years from the University of Sarajevo between 2017 and 2018. Using a questionnaire, we interviewed in a week them to collect information regarding age, socio-economic status, alcohol consumption, and dietary supplement intake. Then, we investigated the association between the baseline intake of folate, B vitamins, and minerals and that of alcohol consumption.
Results: Most students consumed Vitamin B supplements (32%) and folic acid (10%). Dietary multivitamins and minerals were less prevalent in more than a year, accounting for 186 (23.9%) and 174 (24.3%) students, respectively, than those in less than a year. In a year, <20% of students consumed multivitamins 129 (16.6%) and minerals 116 (15.3%). Meanwhile, 256 (27.1%) students consumed alcohol. The Chi-square test of independence showed that drinking habits and the intake of such dietary supplements had no association (p > 0.05).
Conclusion: An extremely low percentage of the participating students in Canton Sarajevo used dietary supplements of Vitamin B, folate, multivitamins, and minerals. Moreover, alcohol consumption and dietary supplement intake were not associated. Further research is needed to establish the best cost-effective public health system to achieve a sufficient intake of dietary supplements.
Downloads
Download data is not yet available.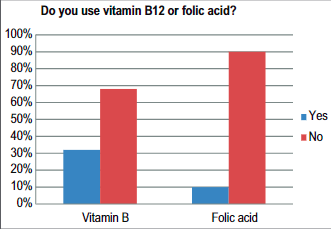 Downloads
How to Cite
Serdarević, N., Pašalić, A., Smječanin, E., Đido, V., Gojak, R., Pecar, M., Jusupović, F., Avdić, D., Trtak, N., Kaljić, E., Jaganjac, A., Katana, B., Bojičić, S., Branković, S., Mahmutović, J., Mačak Hadžiomerović, A., Manić, G., Čaušević, R., Šehić, A., Gojak, E., Hajrović, A., Salihović, A., Husejinović Velagić, M., Pecar, E., & Selimović, D. (2019). Association between alcohol consumption and dietary supplement intake of students from the University of Sarajevo. Journal of Health Sciences, 9(1), 17–22. https://doi.org/10.17532/jhsci.2019.869
Section
Research articles