Association between alcohol consumption and dietary supplement intake of students from the University of Sarajevo
Nafija Serdarević

Institute for Clinical Biochemistry and Immunology, Clinical Center University of Sarajevo and Faculty of Health Studies, Sarajevo, Bosnia and Herzegovina.

https://orcid.org/0000-0001-7977-9819

Arzija Pašalić

Faculty of Health Studies, University of Sarajevo, Sarajevo, Bosnia and Herzegovina

Eldina Smječanin

Faculty of Health Studies, University of Sarajevo, Sarajevo, Bosnia and Herzegovina

https://orcid.org/0000-0003-4482-5381

Vedran Đido

Faculty of Health Studies, University of Sarajevo, Sarajevo, Bosnia and Herzegovina

https://orcid.org/0000-0002-7277-9952

Refet Gojak

Infectology Clinic, Clinical Center University of Sarajevo, Sarajevo, Bosnia and Herzegovina

Muris Pecar

Faculty of Health Studies, University of Sarajevo, Sarajevo, Bosnia and Herzegovina

https://orcid.org/0000-0003-2257-5406

Fatima Jusupović

Faculty of Health Studies, University of Sarajevo, Sarajevo, Bosnia and Herzegovina

Dijana Avdić

Faculty of Health Studies, University of Sarajevo, Sarajevo, Bosnia and Herzegovina

Namik Trtak

Faculty of Health Studies, University of Sarajevo, Sarajevo, Bosnia and Herzegovina

Eldad Kaljić

Faculty of Health Studies, University of Sarajevo, Sarajevo, Bosnia and Herzegovina

https://orcid.org/0000-0001-8020-1029

Amila Jaganjac

Faculty of Health Studies, University of Sarajevo, Sarajevo, Bosnia and Herzegovina

Bakir Katana

Faculty of Health Studies, University of Sarajevo, Sarajevo, Bosnia and Herzegovina

https://orcid.org/0000-0001-7349-5890

Samir Bojičić

Faculty of Health Studies, University of Sarajevo, Sarajevo, Bosnia and Herzegovina

Suada Branković

Faculty of Health Studies, University of Sarajevo, Sarajevo, Bosnia and Herzegovina

Jasmina Mahmutović

Faculty of Health Studies, University of Sarajevo, Sarajevo, Bosnia and Herzegovina

Amra Mačak Hadžiomerović

Faculty of Health Studies, University of Sarajevo, Sarajevo, Bosnia and Herzegovina

Gordana Manić

Faculty of Health Studies, University of Sarajevo, Sarajevo, Bosnia and Herzegovina

Redžo Čaušević

Faculty of Health Studies, University of Sarajevo, Sarajevo, Bosnia and Herzegovina

Adnan Šehić

Faculty of Health Studies, University of Sarajevo, Sarajevo, Bosnia and Herzegovina

https://orcid.org/0000-0003-2960-3801

Ema Gojak

Faculty of Health Studies, University of Sarajevo, Sarajevo, Bosnia and Herzegovina

Almedina Hajrović

Faculty of Health Studies, University of Sarajevo, Sarajevo, Bosnia and Herzegovina

Amela Salihović

Faculty of Health Studies, University of Sarajevo, Sarajevo, Bosnia and Herzegovina

Minela Husejinović Velagić

Faculty of Health Studies, University of Sarajevo, Sarajevo, Bosnia and Herzegovina

https://orcid.org/0000-0002-5713-7919

Ehlimana Pecar

Health Center Sarajevo, Sarajevo, Bosnia and Herzegovina,

https://orcid.org/0000-0002-6838-4878

Deni Selimović

Private Practice "Praxis" Dr. Pecar, Sarajevo, Bosnia and Herzegovina

https://orcid.org/0000-0002-8659-7260
Keywords:
folate, vitamin B, multivitamins, minerals, students
Abstract
Introduction: Dietary supplements are an important source of vitamins and minerals that may help prevent several disease-causing biological pathways involved in one-carbon metabolism, including the suppression of cell proliferation, oxidative stress, nitric oxide synthesis, and angiogenesis. The present study aimed to assess the association between the intake of folate, Vitamin B6, Vitamin B12, and minerals and the consumption of alcohol among university students.
Methods: This study was participated by students aged 19-22 years from the University of Sarajevo between 2017 and 2018. Using a questionnaire, we interviewed in a week them to collect information regarding age, socio-economic status, alcohol consumption, and dietary supplement intake. Then, we investigated the association between the baseline intake of folate, B vitamins, and minerals and that of alcohol consumption.
Results: Most students consumed Vitamin B supplements (32%) and folic acid (10%). Dietary multivitamins and minerals were less prevalent in more than a year, accounting for 186 (23.9%) and 174 (24.3%) students, respectively, than those in less than a year. In a year, <20% of students consumed multivitamins 129 (16.6%) and minerals 116 (15.3%). Meanwhile, 256 (27.1%) students consumed alcohol. The Chi-square test of independence showed that drinking habits and the intake of such dietary supplements had no association (p > 0.05).
Conclusion: An extremely low percentage of the participating students in Canton Sarajevo used dietary supplements of Vitamin B, folate, multivitamins, and minerals. Moreover, alcohol consumption and dietary supplement intake were not associated. Further research is needed to establish the best cost-effective public health system to achieve a sufficient intake of dietary supplements.
Downloads
Download data is not yet available.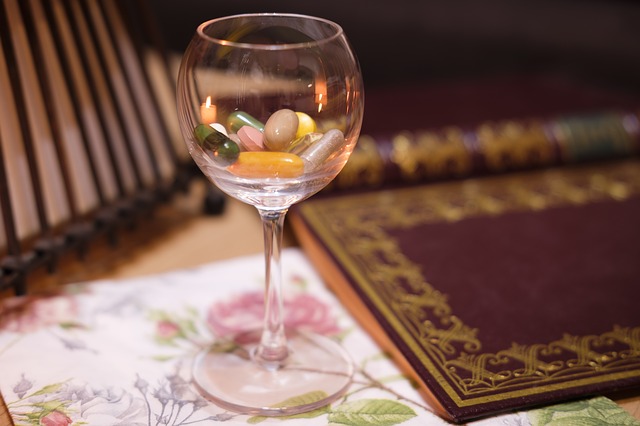 How to Cite
Serdarević, N., Pašalić, A., Smječanin, E., Đido, V., Gojak, R., Pecar, M., Jusupović, F., Avdić, D., Trtak, N., Kaljić, E., Jaganjac, A., Katana, B., Bojičić, S., Branković, S., Mahmutović, J., Mačak Hadžiomerović, A., Manić, G., Čaušević, R., Šehić, A., Gojak, E., Hajrović, A., Salihović, A., Husejinović Velagić, M., Pecar, E., & Selimović, D. (2019). Association between alcohol consumption and dietary supplement intake of students from the University of Sarajevo. Journal of Health Sciences, 9(1), 17-22. https://doi.org/10.17532/jhsci.2019.869
Section
Research articles
Copyright (c) 2019 Nafija Serdarevic, Arzija Pasalic, Eldina Smjecanin, Vedran Djido, Refet Gojak, Muris Pecar, Fatima Jusupovic, Dijana Avdic, Namik Trtak, Eldad Kaljic, Amila Jaganjac, Bakir Katana, Samir Bojicic, Suada Brankovic, Jasmina Mahmutovic, Amra Macak Hadziomerovic, Gordana Manic, Redzo Causevic, Adnan Sehic, Ema Gojak, Almedina Hajrovic, Amela Salihovic, Minela Husejinovic Velagic, Ehlimana Pecar, Deni Selimovic
This work is licensed under a Creative Commons Attribution 4.0 International License.