Food safety – From pioneering steps to the modern scientific discipline
Keywords:
Food safety development, foodborne diseases, history
Abstract
Food safety is a story that unites all civilizations, cultures, and nations, and it is interlaced with various methods for making food safer. Concern for nutritious and safe food is as ancient as humankind itself, and many of the food safety issues that persist today are not new. Diverse records from the ancient world, as well as the religious writings of the three monotheist religions, actually refer to food, its intake, and prohibitions, as well as pathological diseases that may follow from inappropriate intake. Over time, food safety has evolved into a scientific discipline concerned with the handling, preparation, transport, and distribution of food to avoid the transmission of illnesses. The current state of food safety knowledge is the result of past discoveries, innovations, and laws. In modern times, the right to consume safe food is a fundamental human right. It contributes to and promotes sustainable development while supporting the economy, trade, and tourism. Nevertheless, despite significant improvements, we still know relatively little about food-borne illnesses and how infections affect humans.
Downloads
Download data is not yet available.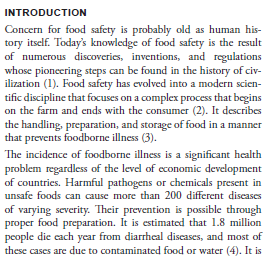 Downloads
How to Cite
Maestro, D., Šegalo, S., Pašalić, A., Maestro, N., & Čaušević, A. (2023). Food safety – From pioneering steps to the modern scientific discipline. Journal of Health Sciences, 12(3), 178–183. https://doi.org/10.17532/jhsci.2022.1914
License
Copyright (c) 2022 Daniel Maestro, Sabina Šegalo, Arzija Pašalić, Nerma Maestro, Amir Čaušević
This work is licensed under a Creative Commons Attribution 4.0 International License.