The prevalence of multidrug-resistant Salmonella in raw shrimp and octopus in Campeche, Mexico
Keywords:
Antibiotics, bacteria, foodborne, pathogen, seafood
Abstract
Introduction: Multidrug-resistant (MDR) pathogenic bacteria in seafood, especially shrimp and octopus, are significant public health concerns and are able to be transmitted to humans in foodstuffs, particularly when they are of animal origin. The present study was conducted to measure the antimicrobial susceptibility patterns and prevalence of Salmonella isolates obtained from octopus and shrimp in San Francisco de Campeche, Mexico.
Methods: Two hundred shrimp and octopus samples (one hundred each) were collected from the municipal market, and each sample consisted of 100 g. The present study used conventional methods to identify and isolate Salmonella, with the disk-diffusion method used to screen all isolates for sensitivity to 12 antibiotics.
Results: The prevalence of Salmonella was found to be 56% and 45% in shrimp and octopus, respectively. The high levels of Salmonella observed in the municipal market sampled by the present study reveal poor sanitary conditions in the processing and transport of the products of interest and those handling them at the point of sale. All the Salmonella strains were resistant to at least three antimicrobial classes. All shrimp isolates (100%) presented susceptibility to chloramphenicol and the majority (88%) presented sensitivity to ciprofloxacin, while the strains isolated in the octopus individuals sampled presented sensitivity to both the foregoing antibiotics (74% and 90%, respectively).
Conclusion: Based on the high prevalence in the samples analyzed, our results suggest that shrimp and octopus could be involved in Salmonella infections in the population.
Downloads
Download data is not yet available.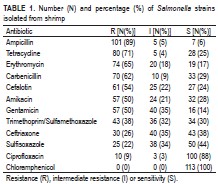 Downloads
How to Cite
Tirado Torres, . D., Chan Keb , C. A., Gutiérrez Alcántara, J., Pérez Balan, . R. A., Baldemar, A. C. ., Vázquez Rodríguez , G., Perla Mayari, T. R. ., Aragón Gastélum , J. L., Sarabia Alcocer, B., & Gutierrez Alcantara, E. J. (2023). The prevalence of multidrug-resistant Salmonella in raw shrimp and octopus in Campeche, Mexico. Journal of Health Sciences, 12(3), 193–197. https://doi.org/10.17532/jhsci.2022.1752
Section
Research articles
License
Copyright (c) 2022 David Tirado Torres, Chan Keb Carlos Armando, Jocelyn Gutiérrez Alcántara, Pérez Balan Román Alberto, Ake Canché Baldemar, Guadalupe Vázquez Rodríguez, Trejo Ramírez Perla Mayari, Aragón Gastélum José Luis, Betti Sarabia Alcocer, Eduardo Jahir Gutiérrez Alcántara
This work is licensed under a Creative Commons Attribution 4.0 International License.