Nursing students' attitudes about their profession
Keywords:
Attitudes, nursing care, nursing profession, nursing student
Abstract
Introduction: Positive attitudes toward the nursing profession among nursing students improve the sustainability of the profession. Studying the attitudes of nursing students toward nursing is of great importance, as it can indicate their remaining in the profession. This study aimed to determine the attitudes of nursing students toward the nursing profession.
Methods: This was a cross-sectional, descriptive, analytical study. The research was conducted at the Faculty of Health Studies at the University of Sarajevo from May to June 2019. The study involved a convenience sample of 107 currently enrolled Bachelor of Nursing students from the 1st to the 4th (and final) year of full-time study and part-time students in the Baccalaureate of Nursing Care program at the University of Sarajevo. The students voluntarily and anonymously completed a questionnaire consisting of demographic information and the Nursing Image Questionnaire.
Results: Overall, 107 students participated in the research. Their mean age was 23 years old (standard deviation, 5 years). Spearman's correlation factor shows a statistically significant correlation between the scores and the mode of studying (full-time or part-time) (rho = −0.200*, p = 0.039) and whether respondents working in the profession or not (rho = 0.249*, p = 0.010).
Conclusion: The attitudes of future Bachelor of Nursing toward the nursing profession were very positive. Full-time students had more positive attitudes toward the profession, compared with part-time students, although the difference was not statistically significant.
Downloads
Download data is not yet available.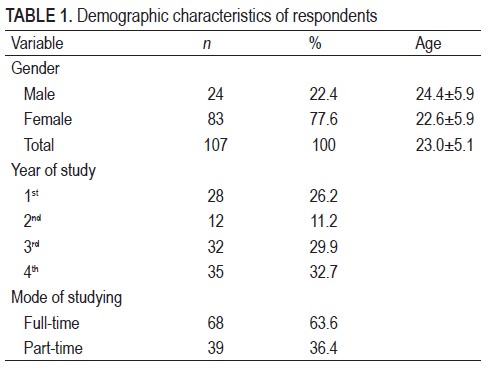 Downloads
How to Cite
Salihović, A., Mahmutović, J. ., & Branković, S. (2021). Nursing students' attitudes about their profession. Journal of Health Sciences, 11(3), 168–171. https://doi.org/10.17532/jhsci.2021.1480
Section
Research articles
License
Copyright (c) 2021 Amela Salihović, Jasmina Mahmutović, Suada Branković
This work is licensed under a Creative Commons Attribution 4.0 International License.