Stigmatization towards cancer among university students in Malaysia
Keywords:
Cancer stigma, cancer stigma scale, health sciences, non-patient population, stigmatization
Abstract
Introduction: Stigmatization towards cancer is a barrier to early cancer screening and treatment. This study was conducted to determine the level of cancer stigma among Malaysian university students in Malaysia with different sociodemographic backgrounds.
Methods: This cross-sectional study recruited 400 students (mean age, SD = 22.22 ± 1.67 years) from a selected university in Malaysia. Data were collected from October 2019 to February 2020 through an online survey. The Cancer Stigma Scale (CASS) was used in assessing the levels of cancer stigma among university students with different courses and social backgrounds. The CASS was used in assessing multiple aspects of cancer stigma, including severity, personal responsibility, awkwardness, avoidance, policy opposition, and financial discrimination.
Results: Data were analyzed using SPSS (version 23). Results showed that the stigmatization level toward cancer among university students varied across the six subscales. Items regarding the severity of a cancer diagnosis showed the highest level of agreement (32–52%; M = 3.05, SD = 0.96), whereas the item 'avoiding someone with cancer' showed the lowest agreement, 7–10% (Mean = 1.85, SD = 0.97). Stigma was significantly higher in young students, males, non-health science students, students in the junior year level, students without family histories of cancer, and the low-income group (p < 0.05).
Conclusion: These findings may provide a benchmark of stigmatization level among university students in Malaysia and may be a valuable basis for delivering information and education on cancer screening and treatment.
Downloads
Download data is not yet available.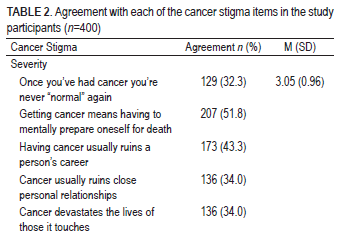 Downloads
How to Cite
Justine, M., Jafri, M. S., Joanny, A., & Akmar , A. N. . (2021). Stigmatization towards cancer among university students in Malaysia. Journal of Health Sciences, 11(3), 149–153. https://doi.org/10.17532/jhsci.2021.1322
Section
Research articles
License
Copyright (c) 2021 Maria Justine, Meor Syazwan Jafri, Angelbeth Joanny, Aiman Nadia Akmar
This work is licensed under a Creative Commons Attribution 4.0 International License.