COVID-19 Pandemic: A Challenge for Healthcare Professionals and Assessment of Anxiety Symptoms
Keywords:
COVID-19, health-care professionals, health-care system, anxiety symptoms, practice, attitude and knowledge
Abstract
Introduction: Worldwide, COVID-19 pandemic caused millions of infected people and thousands of deaths. Due to enormous pressure on health-care systems and its inadequate preparedness, utter collapse is expected. In the current epidemic response, healthcare workers' (HCWs) knowledge and practice are crucial, while the impact on their mental health is still unknown.
Methods: The cross-sectional study was conducted among HCWs redeployed to COVID points in the Public Institution Health Centre of Sarajevo Canton. According to guidelines and information provided by the World Health Organization and Ministries of Health, a questionnaire was developed. In addition, General Anxiety Disorder-7 as a screening tool for anxiety disorders was used.
Results: Of 180 respondents, 26 (14.4%) were in direct contact with the sick patient. In total, 79 (43.9%) respondents consider their personal protective equipment is in accordance with the guidelines of the world health authorities. A total of 72 (39.7%) of respondents used the same mask for several days. In general, the danger from new coronavirus was considered minimal by 59 (32,6%) HCWs. Based on the achieved score for assessing the anxiety disorder, in 63 (35%) subjects, the presence of severe symptoms was detected.
Conclusion: This study found that most HCWs do not have enough knowledge about the COVID-19 pandemic. We identified that there are differences in the sources of information and gap in perceptions of the native origin of the virus. Considering the frequency of anxiety symptoms among HCWs, interventions are necessary in order to preserve their mental health.
Downloads
Download data is not yet available.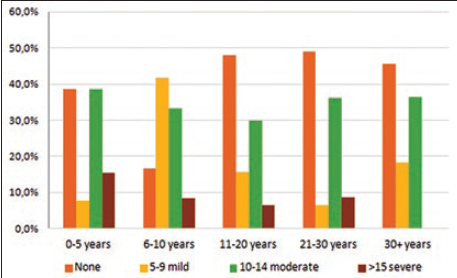 Downloads
How to Cite
Maestro, D., Šegalo, S., Remić, D., Pašalić, A., & Jogunčić, A. (2020). COVID-19 Pandemic: A Challenge for Healthcare Professionals and Assessment of Anxiety Symptoms. Journal of Health Sciences, 10(3), 211–218. https://doi.org/10.17532/jhsci.2020.1073
Section
Research articles
License
Copyright (c) 2020 Daniel Maestro, Sabina Šegalo, Dinko Remić, Arzija Pašalić, Anes Jogunčić
This work is licensed under a Creative Commons Attribution 4.0 International License.