Patient satisfaction as a psychological dimension after rhinoplasty: A randomized study
Keywords:
Nursing care, patient satisfaction, rhinoplasty, quality of life
Abstract
Introduction: Rhinoplasty is an esthetic and functional nasal reconstruction surgery. The elimination of physical disabilities directly affects mental health and leads to a better psychological balance. Therefore, patient satisfaction is considered a valuable measure of medical service outcomes. The objectives of this study were to evaluate subjective patient satisfaction 1 year after surgery and its influence on the quality of life.
Methods: This was a clinical, retrospective, randomized, and single-blinded study in which patients were randomly questioned by the same examiner. All subjects underwent pre-operative preparation and post-operative flow at Eurofarm Centre from 2007 to 2010. The survey was conducted through anonymous questionnaires that were provided to each respondent at least 1 year after discharge from the hospital.
Results: Overall, 20 (50%) patients had esthetic and 20 (50%) had functional nasal surgery. Most respondents were born between 1971 and 1980 (52.5%) and between 1981 and 1991 (40%), with the least born between 1951 and 1960 (2.5%). Regarding the education level, 27 had university degrees (67.5%), 1 had postgraduate education (2.5%), and 12 (30.0%) were secondary school graduates. In addition, 25 (62.5%) were unmarried and 15 (37.5%) were married.
Conclusion: No statistically significant correlation was found between the subjective assessment of patient's health based on eight dimensions of health assessment and variables such as type of surgery, age, level of education, and marital status 1 year after undergoing rhinoplasty. A statistically significant difference was found between the type of surgery and physical pain (p = 0.004 < 0.05, Mann–Whitney U test). Based on the research findings, we can conclude that patient satisfaction after undergoing rhinoplasty was moderately correlated positively with the quality of life (r = 0.180-0.345, p < 0.05).
Downloads
Download data is not yet available.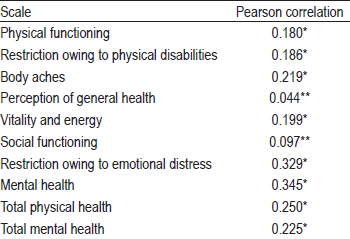 Downloads
How to Cite
Čaušević, R., Karić, I., Salihagić, S., Prguda, I., & Hrustemović, D. (2020). Patient satisfaction as a psychological dimension after rhinoplasty: A randomized study. Journal of Health Sciences, 10(3), 219–225. https://doi.org/10.17532/jhsci.2020.930
Section
Research articles
License
Copyright (c) 2020 Redžo Čaušević, Irmelina Karić, Sanela Salihagić, Indira Prguda, Dženana Hrustemović
This work is licensed under a Creative Commons Attribution 4.0 International License.