Daily activities of employed persons with visual impairment
Keywords:
vision impaired persons, daily activity, quality of life
Abstract
Introduction: The challenges faced by visually impaired people in their efforts to integrate themselves into the labor market and the general position of persons with disabilities, regarding their employment and social security, is extremely difficult. Employment is the best safeguard against social exclusion and one of the main ways to achieve a full involvement in the society of the visually impaired people.
Methods: The research was conducted on a sample of 25 visually impaired people employed at "TMP" d.o.o. Sarajevo. The study was used as a cross-sectional survey method wherein data were collected through appropriate survey instruments, using a modified survey questionnaire.
Results: Out of the total number of respondents, 48% are male and 52% are female. The majority of respondents use other persons' assistance when moving (n = 16). The largest number of respondents had 100% visual impairment (n = 17). The majority of subjects have no strenuous physical activity. The largest number of respondents during the previous week walked for at least 10 minutes, in the sequence of all 7 days and was driven in motor vehicles. When doing household chores, 56% of respondents said they had no difficulty. The most common difficulties in recreation, sports and physical activity in leisure time, that were encountered by 32% of respondents, are poor sound signalling and difficulties of visual nature, though 68% of respondents said that they had no difficulty in their recreational activities.
Conclusion: The daily activities of employed visually impaired persons have a positive impact on their quality of life. Various are occupations of visually impaired people that improve their quality of life.
Downloads
Download data is not yet available.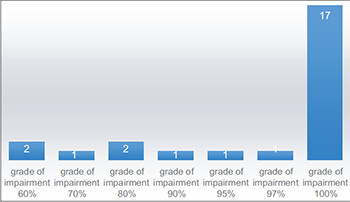 Downloads
How to Cite
Jaganjac, A., Mačak Hadžiomerović, A., Katana, B., Trtak, N., Kaljić, E., Konjo, H., & Redžović, A. (2020). Daily activities of employed persons with visual impairment. Journal of Health Sciences, 10(2), 157–169. https://doi.org/10.17532/jhsci.2020.893
Section
Research articles
License
Copyright (c) 2020 Amila Jaganjac, Amra Mačak Hadžiomerović, Bakir Katana, Bakir Katana, Eldad Kaljić, Hadžan Konjo, Amra Redžović
This work is licensed under a Creative Commons Attribution 4.0 International License.