Percutaneous coronary intervention in four month old infant for acute myocardial ischemia after repaired ALCAPA
Keywords:
Anomalous origin, left coronary artery, pulmonary artery, percutaneous coronary intervention, infant, heart failure, treatment, ALCAPA
Abstract
Anomalous origin of the left coronary artery from the pulmonary artery (ALCAPA) is rare, but life-threatening condition. The treatment of choice in patients with ALCAPA is the establishment of a dual coronary artery system with surgical reimplantation of the left coronary artery in the left coronary sinus. Percutaneous coronary intervention is infrequent in the pediatric population but can be a life-saving by promptly restoring flow to an obstructed coronary artery. It is a highly demanding and high-risk procedure in infants due to the technical difficulties and the small coronary artery diameter in infants.
Downloads
Download data is not yet available.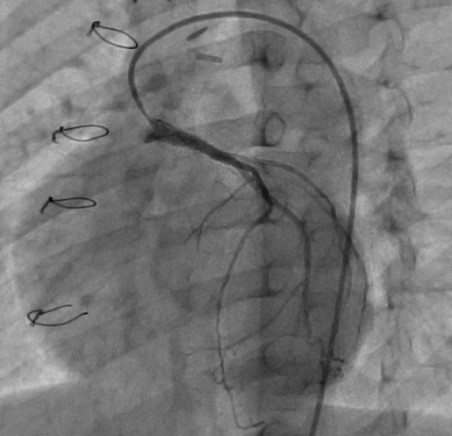 Downloads
How to Cite
Kacila, M., Halimić, M., Karavdić, M., Kadić, A., Lukić, S., Pandur, S., & Hadzimuratović, N. (2019). Percutaneous coronary intervention in four month old infant for acute myocardial ischemia after repaired ALCAPA. Journal of Health Sciences, 9(3), 173–176. https://doi.org/10.17532/jhsci.2019.871