Atypical presentation of Hand foot mouth disease (HFMD) caused by enterovirus serotype Coxsackievirus A6, in India
Keywords:
atypical hand, foot, and mouth disease, enterovirus, coxsackievirus A6, A6, Andaman Islands, India
Abstract
A 27-year-old male presented in the OPD of Naval Hospital in Port Blair, Andaman Islands, India, in 2011 with a history of low-grade fever associated with malaise and a pruritic skin rash. Case 2 – A 17-year-old male student reported to the OPD at Naval Hospital, Kochi Kerala, India, in August 2015. He presented with eruptions on both the palm and soles with a history of high-grade fever for the past 3–4 days. Clinically, both the cases were diagnosed as hand, foot, and mouth disease (HFMD). Both samples were tested against measles virus and varicella-zoster IgM antibodies by enzyme immunoassay and found negative. Stool sample (case 1) and lesion swab (case 2) were processed by enterovirus reverse transcription polymerase chain reaction and phylogenetic analysis, and both were positive for enterovirus human coxsackievirus A6 (CVA6) (untranslated region [UTR]). Phylogenetic analysis also confirmed that both the CVA6 etiology belonged to the genotype F. HFMD in adults often asymptomatic and very few patients get atypical symptoms. Clinical diagnosis is often troublesome to identify HFMD in such cases. An epidemiological surveillance/vigilance is essential to document these atypical cases in near future in developing countries like India.
Downloads
Download data is not yet available.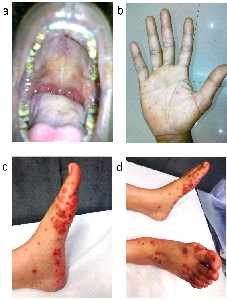 Downloads
How to Cite
Nagarajan, M., Chaaithanya , I. K., Parvez, R., Palani, S., Maile, A., Matta, M., & Vijayachari, P. (2019). Atypical presentation of Hand foot mouth disease (HFMD) caused by enterovirus serotype Coxsackievirus A6, in India. Journal of Health Sciences, 9(2), 123–126. https://doi.org/10.17532/jhsci.2019.733