Transient coma as Percheron's artery stroke
Keywords:
Percheron, stroke, thalamus
Abstract
The artery of Percheron is a rare anatomic variation in the brain vascularization, in which a single arterial trunk arises from the posterior cerebral artery to supply both sides of brain structures, i.e., the thalamus and midbrain. Occlusion of this uncommon vessel results in a characteristic pattern of bilateral paramedian thalamic infarcts with or without mesencephalic infarctions. We report the case of a Caucasian woman who completely recovers after transient coma due to Percheron artery infarction.
Downloads
Download data is not yet available.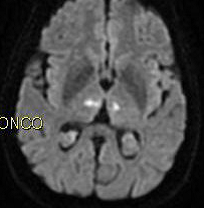 Downloads
How to Cite
Cotelli, M. S., Civelli, P., Tosana, E., & Turla, M. (2019). Transient coma as Percheron's artery stroke. Journal of Health Sciences, 9(2), 118–122. https://doi.org/10.17532/jhsci.2019.696