Bilateral inferior conchae and turbinate hypertrophy causing choanal pseudoatresia
Keywords:
respiratory distress, congenital inferior turbinate hypertrophy, choanal atresia
Abstract
Respiratory distress in neonates is an emergency which requires a thorough investigation to determine the cause, whether it is due to the upper respiratory or lower respiratory entity. Nasal cavity pathologies rarely compromise the neonatal airway. Newborns are obligatory nasal breathers; thus, upper respiratory tract problems could potentially become life-threatening. We report a case of a newborn boy with inferior turbinate hypertrophy (ITH) causing respiratory distress treated successfully by nasal dilatation and posterior septoplasty. Congenital bilateral ITH is rarely seen and can mimic choanal atresia. Congenital ITH would be missed at initial presentation without radiographic imaging and physical evaluation. It should be considered as one of the differential diagnosis in cases suspected for choanal atresia.
Downloads
Download data is not yet available.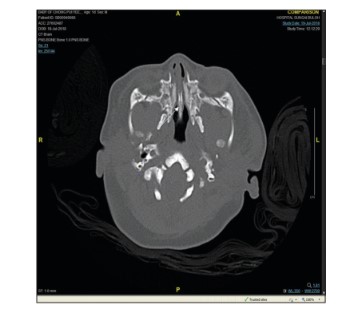 Downloads
How to Cite
Wan Mansor, W. N., Ahmad, A., & Kulasegarah, J. (2019). Bilateral inferior conchae and turbinate hypertrophy causing choanal pseudoatresia. Journal of Health Sciences, 9(1), 50–52. https://doi.org/10.17532/jhsci.2018.581