New Topical Treatment of Symptomatic Internal Haemorrhoids in a General Practice Setting
Keywords:
haemorrhoids, topical treatment, propolis, flavonoid, Croatia
Abstract
Introduction: Oral usage of flavonoid-based drugs can be successfully applied in the conservative treatment of internal haemorrhoids; however, its efficiency in a form of topical preparations has not been demonstrated yet. The aim of the present study was to determine the efficiency of ointment with propolis extract (containing minimally 115 mg/kg of flavonoid galangin) in relief and suppression of the symptomatic internal haemorrhoids grade 1 and 2 (bleeding, prolapse, pain, and itching).
Methods: This prospective cohort epidemiological study that included 46 participants of both genders, mean age 53.6±14.3 years, was conducted in the general practice setting in Osijek, Croatia and lasted for three months. A specially designed questionnaire was used to collect demographic data and data concerning the haemorrhoid disease symptoms and to evaluate the intensity of the latter data according to the scale defined in the research protocol.
Results: The study showed statistically significant improvements in the intensity of all the symptoms connected with the internal haemorrhoids grade 1 and 2 (p<0.001) during the follow up period, as well as statistically significant differences in proportions of participants with and without of the each of the analysed symptoms before and after the therapy (p<0.001). After three months of therapy with ointment containing propolis extract 82.7% patients (38/46) had none of the analysed symptoms.
Conclusions: Ointment with propolis extract efficiently affected all the analysed symptoms of the haemorrhoid disease thus having a very significant place within the conservative treatment of haemorrhoids.
Downloads
Download data is not yet available.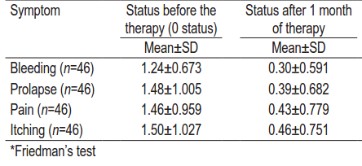 Downloads
How to Cite
Miškulin, M., Lalić, Z., Dumić, A., Miškulin, I., Matić, M., & Pavlović, N. (2018). New Topical Treatment of Symptomatic Internal Haemorrhoids in a General Practice Setting. Journal of Health Sciences, 8(3), 148–153. https://doi.org/10.17532/jhsci.2018.454
Section
Research articles