The role of a dry needling technique in pain reduction
Keywords:
Dry needling, myofascial pain syndrome, pain intensity, trigger point
Abstract
Introduction: Dry needling is a therapeutic procedure using the insertion of thin needles through the skin into myofascial trigger points (MTrPs), muscular or connective tissue with the aim to reduce pain intensity. The objective of this systematic review is to analyze the literature for the efficacy of the dry needle technique in pain reduction in conditions of musculoskeletal pain caused by MTrPs.
Reference Sources: Web of Science, Scopus and EBSCOhost database were searched for studies and e-books published from January 2010 to December 2018.
Studies Selection: We included randomized controlled studies, prospective and longitudinal studies, and case studies which analyzed the efficacy of dry needling for musculoskeletal pain reduction.
Data Extraction Method: The studies, which satisfied criteria for inclusion were further analyzed. The primary instrument of the evaluation was pain intensity analyses.
Results: Dry needling treatment is efficient in pain intensity reduction in patients who suffer musculoskeletal pain and is more efficient compared to sham dry needling treatment. In addition, different techniques of dry needling are efficient in the treatment of myofascial pain syndrome.
Conclusion: Based on systematic review of the literature, dry needling, independently or as an addition to other intervention, is recommended for treatment of musculoskeletal pain conditions caused by myofascial trigger points. Various techniques of dry needling treatment are almost equally efficient in myofascial pain intensity reduction.
Downloads
Download data is not yet available.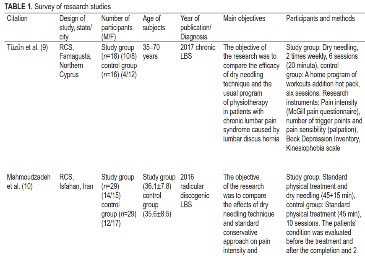 Downloads
How to Cite
Kaljić, E., Trtak, N., Avdić, D., Bojičić, S., Katana, B., & Pecar, M. (2018). The role of a dry needling technique in pain reduction. Journal of Health Sciences, 8(3), 128–139. https://doi.org/10.17532/jhsci.2018.610