Influence of length of use of the Information and Communication Technologies on the health of school-age children
Keywords:
Information and communication technology, children, musculoskeletal pain, eyes, headache
Abstract
Introduction: The use of the Internet is becoming increasingly important in enabling children and adults to fully participate in society, whether it is learning new skills or connecting with friends and family. Consequently, children's opportunities are increasingly dependent on the Internet. The advance of technological innovations has resulted in more and more ICT devices being available to children, contributing to the deterioration of children and adolescents' health.
Methods: The study was designed as an epidemiological, cross-sectional, descriptive-analytical, comparative study. The study was conducted from October 18, 2021, to January 16, 2022, using an online questionnaire accessible through the Microsoft Forms platform. Respondents were able to access the questionnaire via a link or QR code located on the child's consent form for participation in the study, which was previously signed by a parent/guardian.
Results: The results of the study showed that school-age children were the most frequent users of smartphones and watches TV, with male respondents spending more time using almost all ICT devices, with the exception of tablets, which were used more frequently by female respondents. The analysis of pain intensity in the use of information and communication technologies revealed that respondents most frequently experienced mild pain, especially in the neck/shoulders and lower extremities. The frequency of eye problems after using ICT devices was found to be occasional, with the most pronounced symptoms being fatigue, tearing, and eyestrain, as well as headaches in one in five respondents.
Conclusion: Increasing frequency of ICT device use was associated with higher pain intensity in all anatomic regions. A 1-hour increase in weekly ICT device use also increased the likelihood of pain intensity in all anatomic regions, including eye symptoms and headaches. High exposure to ICT is of concern because it leads to adverse health outcomes for children.
Downloads
Download data is not yet available.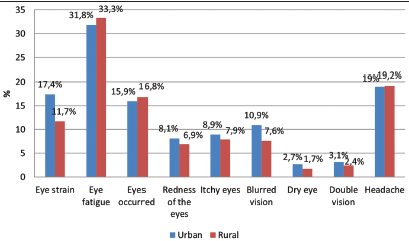 Downloads
How to Cite
Mačak Hadžiomerović, A., Lazić, M., Mahmutović, J., Katana, B., Salkić, N., Mitrić, Žarko ., Pašalić, A., Konjo, H., & Julardžija, F. (2023). Influence of length of use of the Information and Communication Technologies on the health of school-age children. Journal of Health Sciences, 13(1), 28–34. https://doi.org/10.17532/jhsci.2023.2120
Section
Research articles
License
Copyright (c) 2023 Amra Mačak Hadžiomerović, Miloš Lazić, Jasmina Mahmutović, Bakir Katana, Naim Salkić, Žarko Mitrić, Adisa Pašalić, Hadžan Konjo, Fuad Julardžija
This work is licensed under a Creative Commons Attribution 4.0 International License.