Activities of daily life of people of the third age
Keywords:
activities of daily life, persons of the third age, rural living, urban living
Abstract
Introduction: Aging is a natural physiological process based on disturbances of homeostatic mechanisms and loss of adaptability that significantly affects life activities over time. The activities of daily living (ADL) in old age represent the relationship between the subjective characteristics of each individual, supplemented by previous life experiences, and objective socioeconomic factors that create a desirable living framework for people in the third age. The objectives of this research are to analyze the sociodemographic characteristics of third-age people, to study the daily activities of third-age people, and to compare the daily life activities of third-age people living in a rural setting with those of third-age people living in an urban setting.
Methods: The research was conducted in the area of urban and rural environment of Travnik municipality. One hundred elderly people (50 from urban and 50 from rural areas) were included in the research using the snowball method. The instrument used in our research is a standardized questionnaire on instrumental ADL (IADL) according to Lawton-Brody. The study was conducted during the period from the end of March to the end of May 2022.
Results: There is a statistically significant difference in ADL in all eight domains. The mean IADL score in the total sample (n = 100) was 6.36 ± 1.78 and ranged from 1 to 8. The largest number of respondents had the highest IADL score of 8 in 41% of cases, while only one respondent had an IADL score of 1.
Conclusion: The obtained results prove that the score of ADL is lower in people of third-age living in rural areas.
Downloads
Download data is not yet available.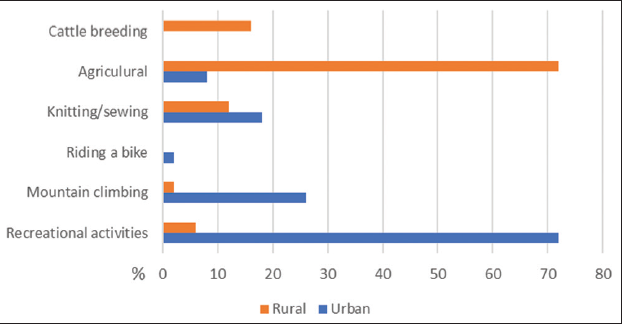 Downloads
How to Cite
Jaganjac, A., Pašalić, A., Mačak Hadžiomerović, A. ., Bojičić, S., Katana, B., Mahmutović, J., Trtak, N., Zlatičanin, R., & Šiljak, A. (2023). Activities of daily life of people of the third age. Journal of Health Sciences, 13(1), 49–54. https://doi.org/10.17532/jhsci.2023.2107
Section
Research articles
License
Copyright (c) 2023 Amila Jaganjac, Arzija Pašalić, Amra Mačak Hadžiomerović, Samir Bojičić, Bakir Katana, Jasmina Mahmutović, Ratko Zlatičanin, Azra Šiljak
This work is licensed under a Creative Commons Attribution 4.0 International License.