Quantification of some additives in energy drinks using high-performance liquid chromatography
Keywords:
Energy drinks, additives, caffeine, high-performance liquid chromatography, Bosnia and Herzegovina
Abstract
Introduction: Energy drinks (EDs) are products in the form of a beverage or concentrated liquid designed to increase both mental and physical stimulations. Their popularity has grown tremendously, especially among children and adolescents, regardless of the growing number of undesirable health consequences associated with their consumption. This study aimed to evaluate the content of additives in EDs available in the Bosnian and Herzegovinian (B&H) markets.
Methods: Twenty-two EDs from 15 brands were analyzed. The contents of quinine (QUIN), caffeine (CAF), benzoic acid (BZA), and sorbic acid (SA) were determined by high-performance liquid chromatography.
Results: The median value of QUIN, CAF, SA, and BZA was 0.15 ppm, 309.05 ppm, 75.35 ppm, and 90.80 ppm, respectively. The highest CAF content variation was found in EDs of brand 4, and the lowest was in brand 6. A statistically significant difference was found between the obtained values in relation to the recommended daily intake of CAF for adolescents by the Centers for Disease Control and Prevention and the American Academy of Pediatrics (p < 0.001).
Conclusion: The CAF content in EDs deviates by 10% from the content stated in the product declaration. All EDs on the B&H market should carry a clear warning: "High CAF content must not be mixed with alcohol and is not recommended for children, pregnant and/or lactating women, and CAF-sensitive individuals." Given the behavioral trends associated with the potential risks of excessive CAF consumption, particularly among youth, national agencies in B&H should recognize areas of intervention such as responsible marketing and advertising, and education and awareness-raising. Further research and monitoring would be needed to determine the effectiveness of the various aspects of the proposed risk management approach.
Downloads
Download data is not yet available.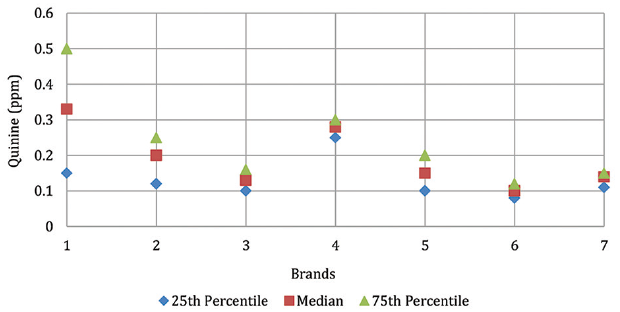 Downloads
How to Cite
Pašalić, A., Šegalo, S., Maestro, D., Čaušević, A., & Suljović, A. . (2022). Quantification of some additives in energy drinks using high-performance liquid chromatography. Journal of Health Sciences, 12(2), 164–169. https://doi.org/10.17532/jhsci.2022.1925
Section
Research articles
License
Copyright (c) 2022 Arzija Pašalić, Sabina Šegalo, Daniel Maestro, Amir Čaušević, Amina Suljović
This work is licensed under a Creative Commons Attribution 4.0 International License.