A cross-sectional study of the antibiotic resistant prevalence of ESBL-producing Enterobacteriaceae in Vietnam
Keywords:
Antibiotic resistance, extended-spectrum b-lactamase, Enterobacteriaceae
Abstract
Introduction: Antibiotic resistance in Enterobacteriaceae producing extended spectrum beta-lactamase (ESBL) is increasing. Accurate evaluation of antibiotic resistance rates in various categories of bacteria assists medical physicians in recommending suitable indications for their medical problems, improving treatment efficiency, and minimizing dangers for patients. As a result, we undertook this research to assess the prevalence of ESBL-producing Enterobacteriaceae as well as the rate of antibiotic resistance in ESBL-producing Enterobacteriaceae.
Methods: A cross-sectional study was conducted on 2716 patients at the An Giang Central General Hospital from June 2020 to June 2021. Data collection was based on interviews and used SPSS 18.0 and GraphPad Prism 9 for data analysis and presentation. Samples included urine, blood, sputum, and pus. Samples were treated with the Phoenix 100 automated machine to separate and identify samples.
Results: The highest rate was 64.8% for Escherichia coli, followed by 30.2% for Klebsiella pneumoniae. Proteus mirabilis and Klebsiella oxytoca were found in 4.5% and 0.6% of the samples, respectively. Ampicillin resistance was greatest in E. coli (96.5%), K. pneumonia (92.4%), and K oxytoca (83.3%). The frequency of resistance to the other antibiotics was likewise extremely high, approaching 60%. Tobramycin, Amoxicillin/Clavulanate, Cefoxitin, and Nitrofurantoin were totally resistant to K. oxytoca in the ESBL-producing group. E. coli and K. pneumoniae with ESBL-producing genes also have a high antibiotic resistance rate of more than 50%.
Conclusion: E. coli was the most common pathogenic bacteria. Most of the species of bacteria resisted Ampicillin.
Downloads
Download data is not yet available.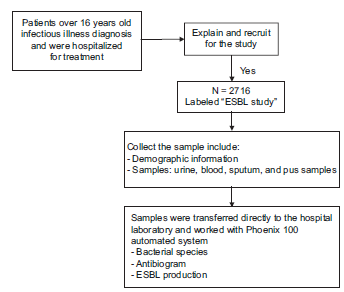 Downloads
How to Cite
Do Tran, H., Trung Nguyen, B., Quang Tran, H. ., & Gia Tran, H. (2023). A cross-sectional study of the antibiotic resistant prevalence of ESBL-producing Enterobacteriaceae in Vietnam. Journal of Health Sciences, 12(3), 184–188. https://doi.org/10.17532/jhsci.2022.1689
Section
Research articles
License
Copyright (c) 2022 Hung Do Tran, Binh Trung Nguyen, Hien Quang Tran, Hung Gia Tran
This work is licensed under a Creative Commons Attribution 4.0 International License.