Radiography student comparison performing lumbar and thoracic spine imaging
Keywords:
radiography, students, student comparison, radiation dose
Abstract
Introduction: General radiography is a common imaging technique and X-ray examinations of the thoracic and lumbar spine are among the most frequent procedures undertaken. The aim of this research was to investigate the success rate, dose-area product (DAP), and effective dose values of 1st and 2nd cycle radiographer students performing X-ray imaging of the thoracic and lumbar spine using a phantom.
Methods: The students were divided into four groups according to the year of study (1st, 2nd, and 3rd years of 1st cycle degree, and all 2nd cycle degree students). They were asked to perform imaging of thoracic and lumbar spine on the phantom in both anteroposterior and lateral projections where IQ and DAP measurements were collated. The study was blind, so they did not know about the purpose of the study.
Results: First, we have inspected the acceptability rate of the images performed. The highest success rate of performing an optimal image was discovered with the 2nd cycle degree students where the 1st year students had the most difficulties there. In the second part, DAP and effective dose values were compared, only for the acceptable images in which case the 1st and 2nd years, students of the 1st cycle degree were most successful.
Conclusion: Based on that, we can conclude, that the 2nd cycle degree students had the lowest rejection rate regarding the optimal image quality, which was the price of using a larger primary X-ray field which leads to higher dose values.
Downloads
Download data is not yet available.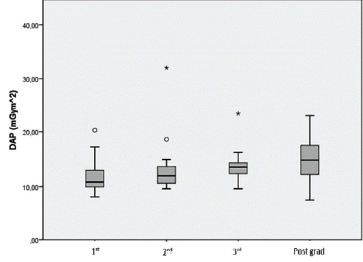 Downloads
How to Cite
Viltužnik, R. ., & Mekiš, N. (2020). Radiography student comparison performing lumbar and thoracic spine imaging. Journal of Health Sciences, 10(3), 241–247. https://doi.org/10.17532/jhsci.2020.1112
Section
Research articles
License
Copyright (c) 2020 Rebeka Viltužnik, Nejc Mekiš
This work is licensed under a Creative Commons Attribution 4.0 International License.